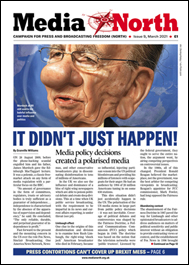 About
MediaNorth
MediaNorth is the quarterly publication of the Campaign for Press & Broadcasting Freedom (North) which covers the North West, Yorks & Humber and North East of England. We also have supporters in Scotland.

CPBF (North) highlights threats to regional media such as the assaults on jobs and conditions in local and regional newspapers, and campaigns for strong regional media. We also strongly support alternative media, both print and online.

Nationally we want diverse, democratically accountable media.

CPBF (North) publishes books and pamphlets, and holds public meetings. If you want to support CPBF(North) you can do three things:

– Contact us at cpbfnorth@outlook.com to join our email list to receive future issues of MediaNorth, details of public meetings and other news

– Become a friend
of CPBF(North) on Facebook at Campaign for Press and Broadcasting Freedom North

– Make a donation
or take out a standing order to support our work. Contact us at cpbfnorth@outlook.com
and we'll give you the details on how to pay.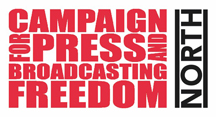 By Louisa Bull

MEDIANORTH is an organisation which Unite supports and we are really pleased to be working with you in tackling the whole situation we face in the UK media at this time. Indeed Unite was very pleased to assist with the production of the excellent ElectionWatch publications and you can be assured of our support in the future.
My contribution is around the ownership, regulation and ethics of the UK media and I am sure there will be some discussion around that in this session. However, before that I think it is important to comment on the current situation in the UK media following the General Election and Brexit.
CLICK HERE TO READ THE FULL ARTICLE
---
By Tom Mills

AS Britain faces a crucial general election, its second in two years, one of its most venerable institutions has been busy demolishing what's left of its reputation. The BBC has long been admired internationally for its well-resourced drama and documentary programs, and respected for the professionalism of its journalism. But its hollowing out by a series of neoliberal governments looks to have finally caught up with the once august institution. Whatever the merits of the BBC's educational and cultural output — a large proportion of which anyway come from private companies — its political journalism, which is at the heart of its public service remit, has failed in the most important test it faces.
For those of us familiar with the politics of the BBC, it has all been fairly predictable, even if still a little depressing, and sometimes even shocking, to watch. Let's start with the prime minister. As a number of critics have noted, the public persona of "Boris" was partly honed on the BBC in a series of appearances on its tired satirical show, Have I Got News for You, and the institution has since proved for the most part either unable or unwilling to puncture the performance and hold the politician to account.
CLICK HERE TO READ THE FULL ARTICLE
---
We can't fight fake news without
saving local journalism
By Emily Bell
ONE of the very few heroes of the UK election campaign is James Mitchinson, editor of the Yorkshire Post. Mitchinson's email to a reader who would not believe a (true) story about a sick child left to wait on the floor of a Leeds hospital is a model of both public service journalism and how to debunk a lie. "Whatever you do, do not believe a stranger on social media who disappears into the night." The email is an open letter to all readers now and you can read it on the Yorkshire Post's website.

If you do visit the page on the Yorkshire Post, you will find Mitchinson's measured words about how his journalists check stories and how the fabric of the lie spread initially on Facebook came apart under scrutiny. If you scroll further you will also come to components of the page which contain both other legitimate stories from the Post and headlines from an automated advertising service called Taboola.
CLICK HERE TO READ THE FULL ARTICLE
---
Corporate media find all the wrong lessons for US Left in Corbyn's defeat
By Alan MacLeod

Conservative leader Boris Johnson swept to power in the UK's December 12 elections, winning 365 of a possible 650 seats. Labour's socialist leader Jeremy Corbyn announced his resignation, after a bitterly disappointing night for his party.

Across the spectrum, corporate media all came to the same conclusion regarding the election: Corbyn's loss spells the end for the US left and a "crushing defeat" (New York, 12/13/19) of the discredited policies of socialism. The press was filled with variations on the same reflexive warning to the Democrats: Don't go left.
CLICK HERE TO READ THE FULL ARTICLE
---
British press dramatically cut criticism of Tories for 2019 election, study finds
By Jon Stone
Hostile press coverage aimed at the Labour Party at the 2019 election was more than double the intensity found during 2017's poll, according to a study of the two campaigns.

Researchers at Loughborough University, who have been tracking political news coverage, also found that British newspapers were half as critical of the Conservative Party in this month's election as they were in the one two years ago.
CLICK HERE TO READ THE FULL ARTICLE
---
How the British media helped
Boris Johnson win
By Natalie Fenton
The mediation of messages plays a key part in the outcome of most elections and the United Kingdom's December 12 general election was no exception.

Incumbent Prime Minister Boris Johnson's Conservative Party took the single strapline "Get Brexit Done" and repeated it endlessly. The slogan was plastered on billboards and emboldened on every pamphlet. It was also Johnson's preferred response to most questions, even when it made very little sense in context. But after three and a half years of political wrangling over whether the referendum vote to leave the European Union would be implemented or not, with parliamentary processes stuck in an endless mire of withdrawal agreements and with news broadcasts seemingly talking of nothing else, it is no surprise that this slogan resonated strongly with the British public.
CLICK HERE TO READ THE FULL ARTICLE
---
Reflections on the election
from a journalism student
By Clara Hill
There are many things that attracted me to pursue a career in journalism. Mainly, that I might as well monetise my irritating love of 24 hour news I inherited from my father.
In some ways, this is an unfortunate ambition because it is no secret that the British media is largely biased towards the right. From my point of view, it is unclear whether this reflects the views of their audiences or structures of ownership but, either way, objectivity is not their strong point. Lots has been said about this already and I'm not here to explain that to you even though it does make me question my career choice.
I want to be the type of journalist who is free to question the status quo and to develop a fresh perspective, away from the pale and the stale – a little less Succession and a little more Spotlight..
CLICK HERE TO READ THE FULL ARTICLE
---
---