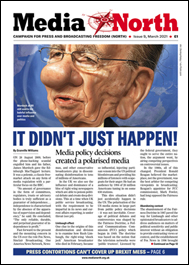 About
MediaNorth
MediaNorth is the quarterly publication of the Campaign for Press & Broadcasting Freedom (North) which covers the North West, Yorks & Humber and North East of England. We also have supporters in Scotland.

CPBF (North) highlights threats to regional media such as the assaults on jobs and conditions in local and regional newspapers, and campaigns for strong regional media. We also strongly support alternative media, both print and online.

Nationally we want diverse, democratically accountable media.

CPBF (North) publishes books and pamphlets, and holds public meetings. If you want to support CPBF(North) you can do three things:

– Contact us at cpbfnorth@outlook.com to join our email list to receive future issues of MediaNorth, details of public meetings and other news

– Become a friend of CPBF(North) on Facebook at Campaign for Press and Broadcasting Freedom North

– Make a donation or take out a standing order to support our work. Contact us at cpbfnorth@outlook.com
and we'll give you the details on how to pay.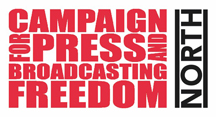 COVID-19 AND THE MEDIA –
A SPECIAL ISSUE OF MEDIANORTH
We have produced a special MediaNorth on COVID-19 and the Media which went online on 31 March 2020. The main focus of the special issue is on the impact on UK media but this is a global issue. There is a huge amount of material out there for people to access and here are four, very different, pieces giving other perspectives:
https://inthesetimes.com/article/22394/coronavirus-crisis-capitalism-covid-19-monster-mike-davis

https://prospect.org/economy/repeating-the-mistakes-of-the-2008-bailout/

https://monthlyreview.org/2020/03/27/covid-19-and-circuits-of-capital/?mc_cid=a45d929946&mc_eid=8aadc50728

https://www.ft.com/content/863160aa-700e-11ea-9bca-bf503995cd6f
---
ORDER YOUR COPY OF IT'S THE MEDIA - STUPID!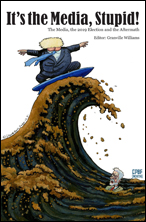 We still plan to publish our book It's the Media, Stupid! The Media, the 2019 Election and the Aftermath later in April. Sincere thanks to Steve Bell, The Guardian cartoonist, for the pungent cover cartoon.
Obviously plans for book launches are now on hold. So we will be relying on people buying the book directly from CPBF(North). Here's how you can do it:
• Send a cheque for £11.50 inc P&P, with your name and address, to
CPBF(North) 24 Tower Avenue, Upton near Pontefract West Yorkshire
WF9 1EE
• Or you can use BACS to transfer £11.50 to CPBF (North) Sort code 08-92-99
a/c No 65796090.

Please remember to email cpbfnorth@outlook.com with your name and address.
---
MEETING CANCELLED
The coronavirus has forced us to cancel our 2 April event in Leeds. We are planning to hold it again in November.
The Sheffield meeting Wapping: The Worker's Story on 7 May is also cancelled. It was part of the Sheffield Festival of Debate which has been cancelled.
---
We have a meeting planned for the South Yorkshire Festival in August, which we hope will go ahead:
Resisting Press Vilification:
The Challenge for Labour's new leader

Nicholas Jones, former BBC Industrial and Political Correspondent

Sunday 9 August 3.00pm Admission Free

Unison Room, Wortley Hall, Wortley Sheffield S35 7DB

PLUS book launch of It's The Media, Stupid!

---
WATCH THE SESSIONS FROM OUR
IT'S THE MEDIA, STUPID! CONFERENCE
The well-attended conference It's The Media, Stupid! Post-Election Policies for Media Reform was an outstanding success. We commissioned Route Publishing to record the sessions on the day and they are now available to view, here
If, after you have watched the session recordings, you want to get involved in the media reform work we discussed in the final conference session contact
cpbfnorth@outlook.com
CLICK HERE to visit our READINGS pages with articles on media conduct during the 2019 General Election
CLICK HERE to read our newsletters, MediaNorth and ElectionWatch