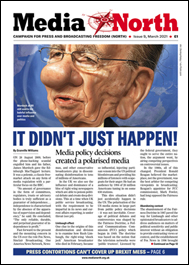 About
MediaNorth
MediaNorth is the quarterly publication of the Campaign for Press & Broadcasting Freedom (North) which covers the North West, Yorks & Humber and North East of England. We also have supporters in Scotland.

CPBF (North) highlights threats to regional media such as the assaults on jobs and conditions in local and regional newspapers, and campaigns for strong regional media. We also strongly support alternative media, both print and online.

Nationally we want diverse, democratically accountable media.

CPBF (North) publishes books and pamphlets, and holds public meetings. If you want to support CPBF(North) you can do three things:

– Contact us at cpbfnorth@outlook.com to join our email list to receive future issues of MediaNorth, details of public meetings and other news

– Become a friend of CPBF(North) on Facebook at Campaign for Press and Broadcasting Freedom North

– Make a donation or take out a standing order to support our work. Contact us at cpbfnorth@outlook.com
and we'll give you the details on how to pay.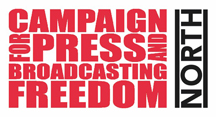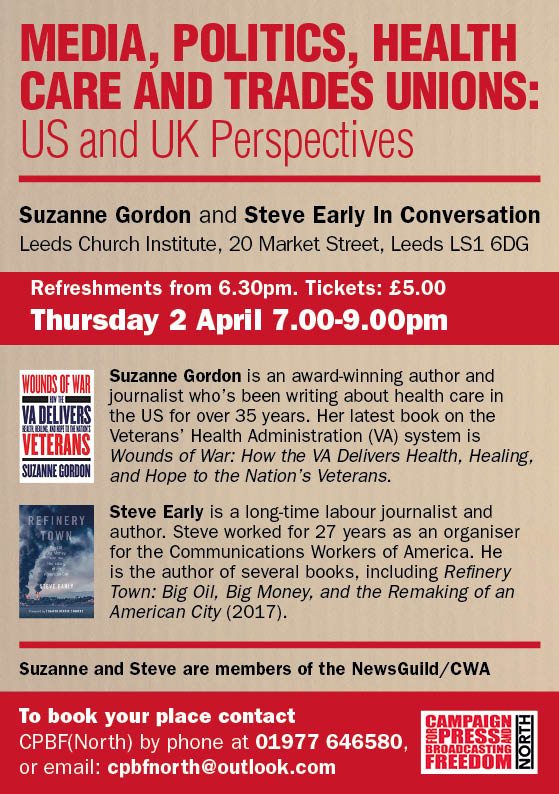 Contact us to book your place at cpbfnorth@outlook.com
If you want to book for the Steve Early/Suzanne Gordon event on 2 April please send a cheque for £5.00 payable to CPBF(North) with your name, address and email to:
CPBF(North), 24 Tower Avenue, Upton, Pontefract, West Yorks WF9 1EE.

Or, if you prefer, you can pay by bank transfer to:
CPBF(North) at the Cooperative Bank, sort code 08-92-99, account number 65796090 Ref 'Health'. If you do pay by BACS can you please also email your details to us at cpbfnorth@outlook.com to let us know so we can check it's made it safely into our bank account, and so we can arrange refreshments.

You can also contact CPBF(North) by Phone: 01977 646580 or 07790958270.
---
WATCH THE CONFERENCE SESSIONS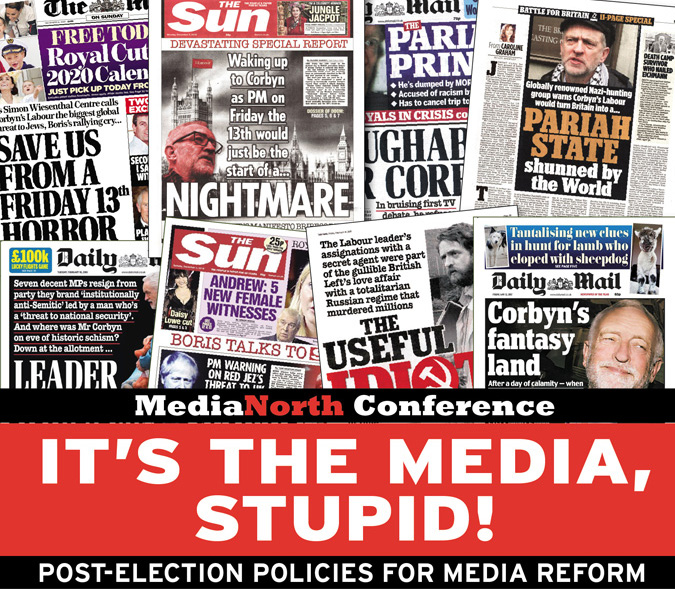 The well-attended conference It's The Media, Stupid! was an outstanding success. We commissioned Route Publishing to record the sessions on the day and they are now available to view.
---
Session 1
THE MEDIA AND THE ELECTION
https://www.youtube.com/watch?v=1uHABt3iiEE
---
Session 2
THE PRESS: OWNERSHIP, REGULATION
AND ETHICS
https://www.youtube.com/watch?v=-8zO2N3AlGc
---
Session 3
BROADCASTING: REGULATION, AND IMPARTIALITY
https://www.youtube.com/watch?v=eE50lts5YHg
---
Session 4
LOOKING FORWARD: POLICIES
FOR MEDIA REFORM
https://www.youtube.com/watch?v=ILGB2WfS9Q0
---
The following link will play them in full,
one after the other
https://www.youtube.com/playlist?list=PLLfKeSGbrSbBH8geZma_yZ61R-OvI-GzM
---
If, after you have watched the session recordings, you want to get involved in the media reform work we discussed in the final conference session contact
cpbfnorth@outlook.com
---
---
CLICK HERE to visit our READINGS pages with articles on media conduct during the 2019 General Election
CLICK HERE to read our newsletters, MediaNorth and ElectionWatch