Book excerpts
from Greg Palast
---
The Theft of 2008
From the Paperback Edition of ARMED MADHOUSE
The Republican Party won the 2008 Presidential race on January 1, 2006. It was a private affair, so the Democrats wouldn't recognize the GOP had put the ballots in the bag a couple years ahead of the voting. But before I tell you how they stole it, I'm going to tell you how they didn't steal it . . ."
Click here to download The Theft of 2008
---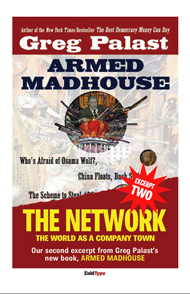 The Network: The World
as a Company Town
From ARMED MADHOUSE
The Arabs have taken billions of dollars out of this country, and now they must put it back. Indeed they must. In April 2005, when George Bush drove the King-to-be of Saudi Arabia around the Crawford ranch in a golf cart, thePresident wasn't playing caddy to Abdullah because we need the Saudis' oil. OPEC nations will always sell us their oil. After all, they can't eat the crude nor drink it and there's only so much Abdullah's harem can pour on his belly. George Bush's concern is that, in the first five years of his Administration, Abdullah and the oil-exporting nations sucked up over half a trillion dollars from U.S. consumers — $649 billion for their oil — and our President wants it all back. He needs it . . .
Click here to download The Network
---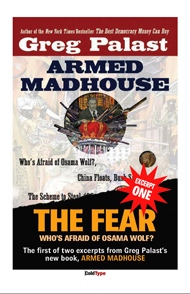 The Fear: Who's Afraid
of Osama Wolf?
From ARMED MADHOUSE
So, Osama Walks into This Bar, See?. . . and Bush says, "Whad'l'ya have, pardner?" and Osama says . . . But wait a minute. I'd better shut my mouth. The sign here in the airport says, "Security is no joking matter." But if security's no joking matter, why does this guy dressed in a high-school marching band outfit tell me to take off my shoes? All I can say is, Thank God the "shoe bomber" didn't carry Semtex in his underpants.I'm a bit nervous. It's an "ORANGE ALERT" day.
Click here to download The Fear
---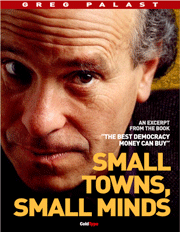 Small Towns, Small Minds
From THE BEST DEMOCRACY MONEY CAN BUY
Before taking up the pen for Britain's Observer and Guardian newspapers, Los Angeles-born Greg Palast traveled the globe as expert investigator of corporate fraud and racketeering. Palast won Britain's highest journalism honors for his 1998 undercover investigation of influence peddling within Tony Blair's cabinet – by Enron and other US corporations. He then turned his sleuthing skills on to the Bush money trail: uncovering for BBC and The Observer the uncomfortable truths of how the Bush Administration quashed investigations of Saudi financing of terror – and Poppy Bush's extraordinary methods for stuffing his bank account and his son's campaign coffers. In this excerpt from "The Best Democracy Money Can Buy" Palast turns his spotlight on the culture of McDonald's and the "frightening Americanization of America."
Click here to download Small Towns, Small Minds
---
---
Find More Great Books, Essays, Columns & Photojournalism
at ColdType.net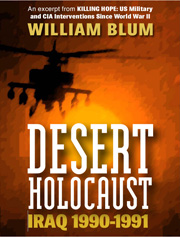 Click here to go to the COLDTYPE home page - read John Pilger, George Monbiot, Norman Solomon, Robert Fisk, Michael I. Niman, Danny Schechter and much much more. Download free books, magazines, newspapers and photo essays . . .
---